There's no expensive equipment to purchase. Use a device you already own, connect to the internet, and you're ready to take payments.
Streamline processing
Our Web Terminal lets you process transactions, authorizations, or refunds in seconds wherever you are (trade show, conference, in the office, etc.). You never have to miss a sale and don't have to waste precious dollars on fancy payment terminals.
.
Securely store sensitive data
Safely store customer data for faster, friction-free transactions. You can input up to 5 credit cards for each customer. We use tokenization to ensure you are PCI-compliant and never store sensitive credit card data in your system.
We chose Payfirma because of their user-friendly product, outstanding service, and competitive rates. In total, training our staff took no more than two hours and we now use Payfirma daily for all our transactions.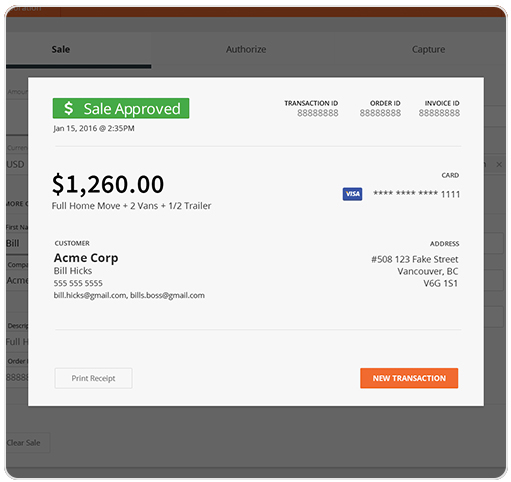 Use our intuitive interface
Process payments easily with our merchant-friendly platform. No unnecessary clutter, confusing navigation, or technical jargon – just simple and straightforward payments.
Take the guesswork out of what's working
View your Dashboard for real-time snapshots of your transactions. Filter by date and user for detailed information that helps you make smarter decisions about your products, employees, and customers.
How Web Terminal Works
The simplest way to accept credit card payments
using any device, anytime, anywhere.